Datalab yesterday, today, tomorrow
History
Datalab d.o.o. was founded by Andrej Mertelj and Tomaž Teyrovsky on September 9, 1997 as a business software development company for SMEs. They decided to found a company after Gekko d.o.o., where both had been employed and Andrej was an associate, went bankrupt. Gekko had a wide network of computer stores and the second most powerful brand of PCs (PowerPlus) in Slovenia. Its downfall was the result of unclear business operations due to improper IT support. Andrej's objective was clear: no entrepreneur should be forced to abandon his business due to bad business software. 'Turning Data into Profit' has been Datalab's slogan since the beginning, and clearly shows its mission – to help companies generate greater profit from their business data using IT. We believe that IT is only a tool that helps a company to achieve tangible results (increase profits), and not an end in itself.
A three man team initially laid the groundwork for HERMES, a transactional application on which Datalab's integrated ERP, PANTHEON, is based. Following initial growth through software development and support, it became apparent that our goals could only be achieved through a broad user base. Implementation and support were becoming more and more of a burden, and the company needed to focus its activities. In 2000, the Datalab partner channel came into being: partners take care of sales, implementation, and support, whereas Datalab develops software and coordinates partner activities. Datalab's support centers in Ljubljana, Maribor, and Koper became independent spinoffs with their employees as owners. That turbulent year saw a drop in sales due to reorganization, but the company got back on track and is today one of the fastest growing business clusters in Southeastern Europe. The reorganization resulted in more focused activities and clear business processes in the ever growing partner network.
DataLab can be considered a 'typical' software company that went from the garage to the stock market. It pursues its primary activity, but does not neglect its social responsibility. It proves that successful IT solutions can also come from Europe. On December 1, 2003, Datalab became a corporation limited by shares with most employees as shareholders, which is a good foundation for achieving our goals.
30 June 2008 marks the next landmark when Datalab, d.d., was listed on Ljubljana Stock Exchange (stock: DATR). We became the first Slovenian IT company listed on the exchange. And two years later, on 30 June 2010, PANTHEON helps and provides ease of use for 20,000 users. 30,000 users were reached on 27 February 2013 and the milestone of 40,000 on 31 March 2015 and 50,000th user on 15.3.2017.
In September of 2017 we celebrated 20 years!
Datalab is the leading Slovenian company developing business information solutions which is demonstrated by the reference list and four consecutive titles of Best at Infos – Finalist in years 1999, 2000, 2001 and 2002, Oracle EE & CIS Partner of the Year in 2007, European Seal of Excellence 2008 and 2012, gold prize Best e-Solution and silver prize Best e-Business (JAPTI) and numerous other awards.
Our work is never finished. We wish to offer our users tools that help them get the most out of their data. We wish to increase simplicity of use and cover all aspects of business that are not yet covered. One of the most imporatant fields will be e-business and its inherent lowering of costs.
This brings us closer to our objective – developing the best business software for small and medium-sized enterprises, thus helping them to survive and thrive, as they form the most important part of a nation's economy.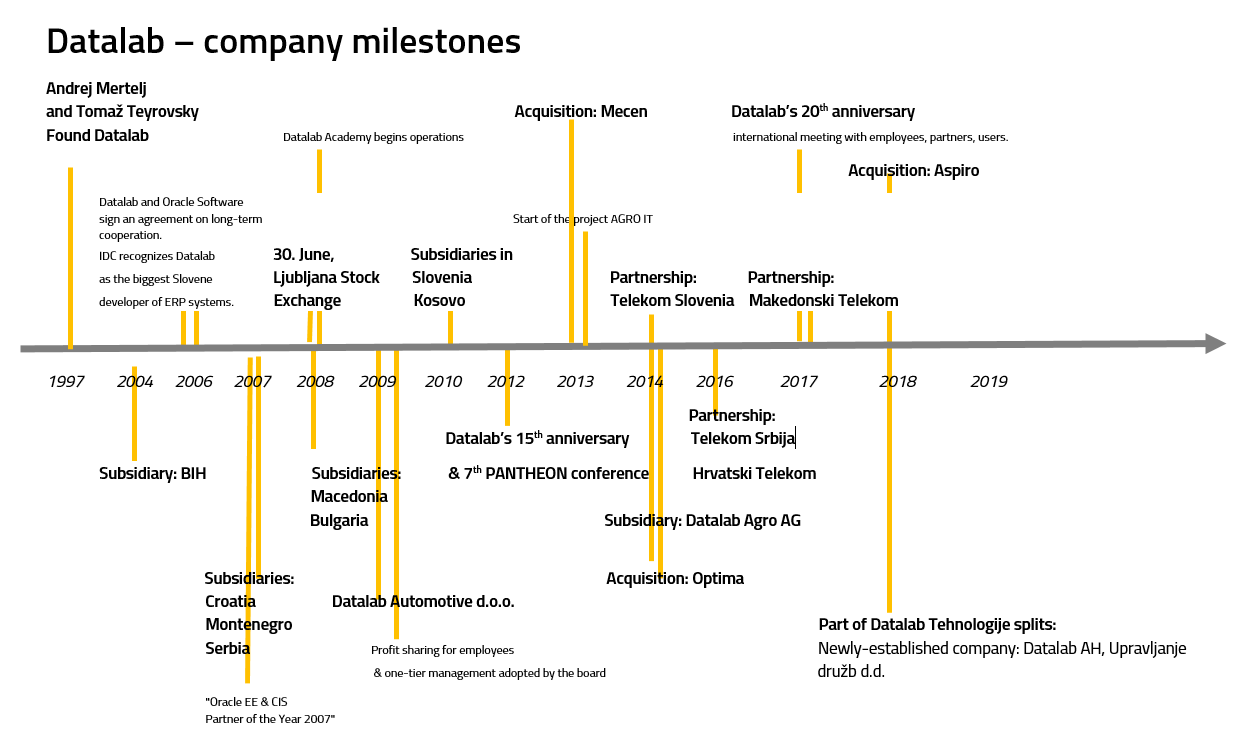 Values
Our core values are the basis upon which our team members make decisions, create strategies, and work with one another. These values evolved our beliefs and motivations as well as everything that connects us so that we may be the best version of ourselves every day.
Our core values are:
Trust
Innovation
Honest communication
Reliability
Goal orientation
Responsibility
Respect
Professionalism
Future orientation
Commitment
Vision
Vision and mission
At Datalab, we're committed to developing an effective business information system which facilitates comprehensive management and provides an overview of all activities and resources within a company. Fast, accurate information is key to survival. Companies can maintain and develop their competitive edge only through up-to-date information support that can keep pace with their business goals.
Today, Pantheon is the best business information system of its kind in the region, but we're not stopping there… Our ultimate goal is to develop the best ERP in the world.
Our mission is to guarantee high quality business IT to even the smallest companies through constant innovation. It is our desire to help them achieve growth and realize their strategies. We would like to help them increase profit by optimizing business processes and automating work processes.
Strategy
Datalab is intent on developing business solutions that are open, adaptable and powerful. We want our solutions to function in all IT environments and to enable users to choose the technology freely according to their business strategies.
Here at Datalab, we strive to achieve continuous improvement and innovation. We believe in the competence and diligence of our employees and partners. We foster a culture of teamwork, which – with the help of the latest technology – opens new paths for our employees and enables them to reach their full potential.
Our business information system is developed modularly and allows simple extensions with solutions created by our development partners. We give users advanced features, which enable them to adapt the IT support to their needs and add new services efficiently.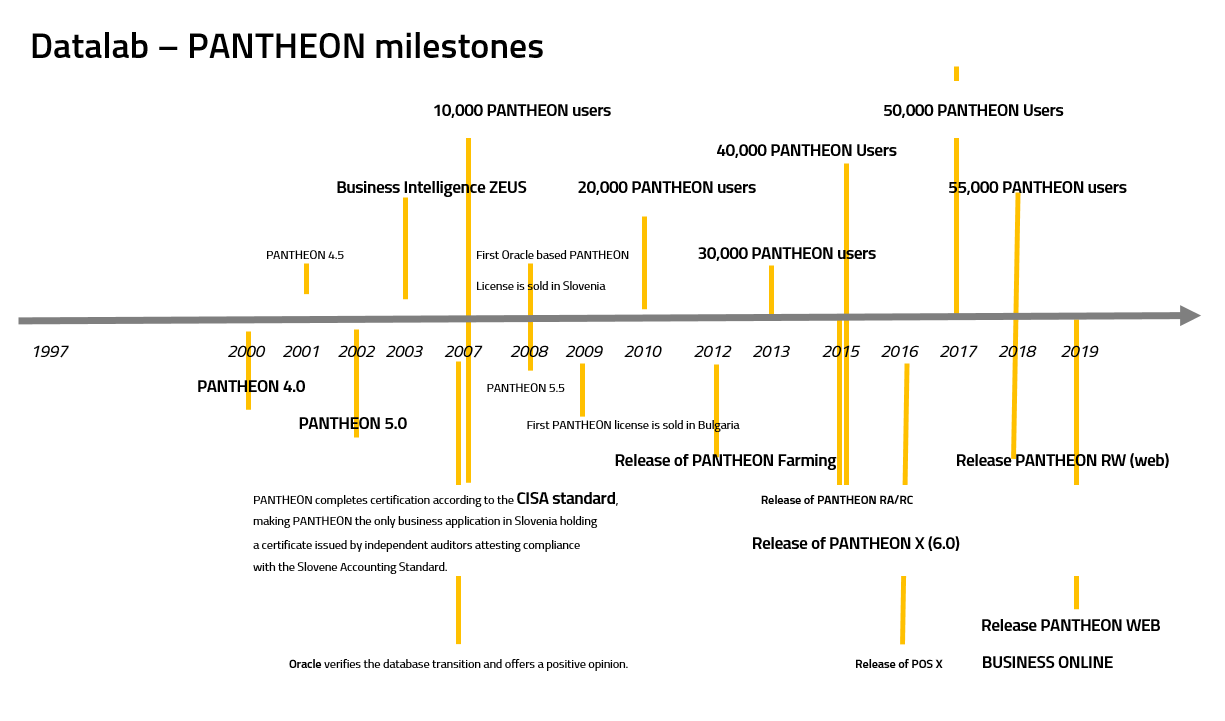 Here at Datalab, we believe in evolutionary software development. Our development philosophy is best described by the Japanese Term Kaizen, which means continuous improvement and progress. This concept has a strong presence in the open-source community, because an evolutionary approach allows for quick upgrades at low cost. These upgrades are based on user feedback, public testing and user groups. Suggestions are evaluated and used as the basis for specifying changes. This is followed by development, testing and localization, after which the new update can be released. Users can decide for themselves, whether they want to upgrade. Users thus become developers themselves.
Kaizen is a Japanese management concept, which strives for continuous incremental improvements. At its core, it's a philosophy stating that every facet of our lives should improve continuously. The key elements for that are quality, endeavor, participation, willingness to change, and communication.
Need more information?
Call us or write an e-mail. We'll be happy to answer all your questions.